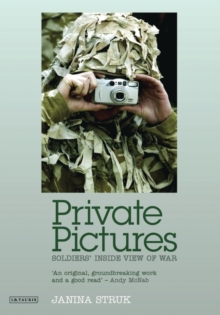 Private pictures : soldiers' inside view of war
1848854439 / 9781848854437
25 cm xvii, 212 p. : ill.
Professional & Vocational Learn More
Postgraduate, Research & Scholarly
Undergraduate
Snapshots taken by American soldiers of Iraqi prisoners stripped naked, humiliated and tortured shocked the world in 2004 and more have followed from the conflict in Afghanistan, but whether the public have been horrified by the soldiers' conduct or the fact they have taken pictures has not been clear.
In fact, as this remarkable book reveals and relates, soldiers have taken photographs of war and its atrocities for more than 100 years.
But their pictures are private, intended mainly for the soldiers themselves, as mementoes or as attempts to make sense of the chaos, brutality and boredom of war.
They can be gruesome or sociable, shocking or mundane and they are seldom regarded as serious contributions to a visual culture of war, which since 1939 has been dominated by professional war photography.
But with the 21st-century shift to simple digital photography, transmission by the internet available to all, and a new 'citizen journalism', soldiers' pictures are acquiring a new resonance. "Private Pictures" traces this unacknowledged genre of photography from the origins of popular photography in the Boer War through to the present day; it discusses how the images have been used and it asks: what effect might the wider appreciation of soldiers' pictures have on the popular perception of war?
BIC:
AJC Photographs: collections, HBWS Military history: post WW2 conflicts, JFC Cultural studies