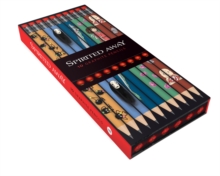 Spirited Away Pencils
1797202677 / 9781797202679
83 x 197 mm 10 pages, Full colour throughout
Let your creative spirits flow with this handy set of 10 graphite pencils featuring beloved characters from Hayao Miyazaki's award-winning fantasy film Spirited Away. * GREAT FOR STUDIO GHIBLI FANS: This pencil set, part of a continuing official partnership with Japanese animation giant Studio Ghibli, captures the nostalgia and magic of the classic Ghibli film Spirited Away.
It's a great gift or self-purchase for animation fans, collectors, artists, and anyone who loves cute Japanese art, stationery, and pop culture. * OWN A PIECE OF THIS CRITICALLY ACCLAIMED FILM: Spirited Away is the highest-grossing film in Japan's history.
It won the Academy Award (R) for Best Animated Feature, and has appeared on many critics' lists of the best films of all time. * DISTINCTIVE SCHOOL OR OFFICE SUPPLY: Bring some flair to your school or office supplies with this fun pencil set that features characters from Spirited Away.
The Standard HB/No. 2 pencils offer great writing quality, while the full-color characters printed on them will delight adults and children alike. * INCLUDES: 10 sharpened graphite pencils with erasers in box (tray with sleeve). 5 unique designs. (c) 2001 Studio Ghibli - NDDTM
BIC: