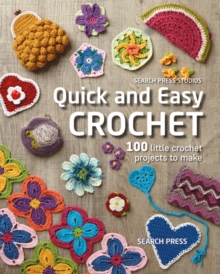 Quick and easy crochet : 100 little crochet projects to make
1782218033 / 9781782218036
24 cm 239 pages : illustrations (black and white, and colour)
Originally published: as 100 little crochet gifts to make. 2016.
This gorgeous book brings together 100 of the top crochet projects from the best-selling Twenty to Make series.
With contributions from five top crochet designers and best-selling authors, these fabulous designs are quick and easy to make, and include stylish purses and hats, cute teddy bears, flowers, hearts and festive decorations.
Whether you are on a budget and want to make a quick and quirky gift for a friend, or wish to indulge in a special treat for yourself, you will discover a treasure trove of ideas within this book that you simply won't be able to resist. Projects have been taken from the following titles in the Twenty to Make series:Mini Christmas Crochet by Val PierceCrocheted Bears by Val PierceCrocheted Flowers by Jan OllisCrocheted Granny Squares by Val PierceCrocheted Beanies by Frauke KiedaischCrocheted Purses by Anna NikipirowiczCrocheted Hearts by May CorfieldGranny Square Flowers by May CorfieldPreviously published as 100 Little Crochet Gifts to Make (9781782213338).
BIC: