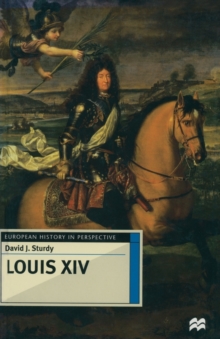 0333605144 / 9780333605141
Stock expected by 19/07/2020
This is a study of the defining aspects of the reign of Louis XIV.
The nature of the French monarchy, methods of government, Louis's relationship to his subjects and to the churches, the organization of cultural life, and France's relations with the rest of Europe are all considered.
The book relates Louis and his regime to the longer-term movements of French history and to some of the wider historical forces at work in 17th-century Europe.
It raises past and present historiographical controversies surrounding Louis XIV and indicates some of the major problems in interpretation which still confront historians.
BIC:
1D Europe, 4KL Designed / suitable for A & AS Level, BGR Biography: royalty, HBJD European history, HBLH Early modern history: c 1450/1500 to c 1700, HBTG Genealogy, heraldry, names & honours