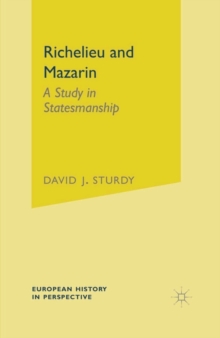 Richelieu and Mazarin : a study in statesmanship
0333753992 / 9780333753996
Stock expected by 18/07/2020
advanced secondary Learn More
general
undergraduate
David J. Sturdy is the author of "Louis XIV", also in the "European History in Perspective" series.
David Sturdy presents a concise and comparative analysis of the private and public careers of Richelieu and Mazarin.
Several chapters are devoted to such central themes as the international government of France and the conduct of foreign policy, while others deal with the political strategies of the two men, the relations between the ministers and the crown, and the patronage which they exercised.
The study concludes with an assessment of the historical significance of Richelieu and Mazarin.
BIC:
3JD c 1600 to c 1700, HBJD European history, HBLH Early modern history: c 1450/1500 to c 1700, JPHL Political leaders & leadership