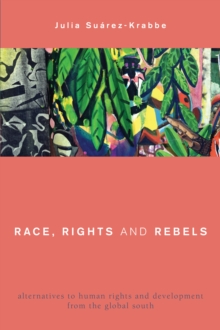 Race, rights and rebels : alternatives to human rights and development from the Global South
1783484616 / 9781783484614
Usually dispatched within 4 weeks
Postgraduate, Research & Scholarly Learn More
Undergraduate
Human rights and development cannot be understood separately.
They are historically connected by the idea of race, and have evolved concomitantly with the latter.
As the tools of race, human rights and development have been forged in the effort to legitimize and maintain coloniality.
While rights and development can be used as tools to achieve protection, specific political goals, or access in the dominant society, they limit radical social change because they are framed within a specific dominant ontology, and sustain a particular political horizon. This book provides an original analysis of the evolution of the overlapping histories of human rights and development through the prism of coloniality, and offers an important contribution to the search for alternatives to these through the lens of indigenous and other southern theories and epistemologies.
In this effort, Julia Suarez-Krabbe brings new perspectives to discussions pertaining to the decolonial perspective, race, knowledge, pluriversality, mestizaje and identity while elaborating on original philosophical concepts that can ground alternatives to human rights and development.
BIC: