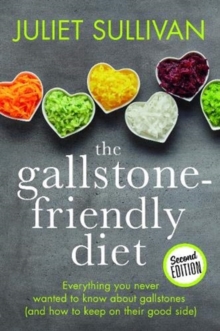 The Gallstone-friendly Diet - Second Edition : Everything you never wanted to know about gallstones (and how to keep on their good side) (2 New edition)
1781611629 / 9781781611623
In the UK in 2012 an estimated 60,000 people had their gallbladder removed because of gallstones and over 2010-2012 the figure for Ireland was nearly 20,000.
This number has been increasing year on year into a virtual epidemic, almost certainly related to contemporary high sugar/fructose diets.
But it is fats that bring on gallstone symptoms - `gallbladder colic', said to be one of the most acutely painful experiences we can have.
While seeking treatment for gallstones, the only way to avoid this pain is to follow a no-fat or very low-fat diet so that the gallbladder is not stimulated into action.
But how to change the habits of a life time? Juliet Sullivan has been on that journey and shares what she has learned along the way (now in an expanded second edition), including what worked for her and the recipes she developed that saw her through to surgery and beyond.
With star ratings for fat levels, her guidance is quick and easy to follow and provides low-fat alternatives of family favourites - from a roast dinner to spag bol - so sufferers can eat with family and friends and not feel excluded on account of their medical problem.
As many reviewers have said, this book is like getting advice from a close friend with whom you have a shared experience.
BIC: