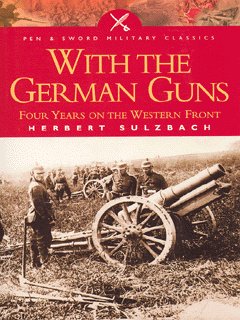 With the German guns : four years on the Western Front, 1914-1918
1844150194 / 9781844150199
Usually dispatched within 4 weeks
20 cm 256 p., [12] p. of plates : ill.
Reprint. This translation originally published: 1973.
At once harrowing and light-hearted, Sulzbach's exceptional diary has been highly praised since its orginal publication in Germany in 1935. With the reprint of this classic account of trench warfare it records the pride and exhilaration of what to him was the fight for a just cause. It is one of the very few available records of an ordinary German soldier during the First World War.
OOne of the most noteable books on the Great War. It is a book which finely expressed the true soldierly spirit on its highest level; the combination of a high sense of duty, courage, fairness and chivalry.O Sir Basil Liddell Hart
BIC:
1DFG Germany, 3JJH c 1939 to c 1945 (including WW2), BM Memoirs, HBJD European history, HBLW 20th century history: c 1900 to c 2000, HBWN First World War