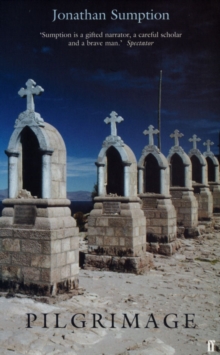 Pilgrimage : an image of mediaeval religion
057121293X / 9780571212934
22 cm 391 p., [4]p. of plates : ill.
Reprint. Originally published: 1975.
Jonathan Sumption explores the traditions of pilgrimage prevalent in Europe from the beginning of Christiantiy to the end of the 15th century.
Describing such major destinations as Jerusalem, Rome, Santiago de Compostella and Canterbury, he examines both major figures - popes, kings, queens, scholars, villains - and the common folk of their day.
With sympathy he evokes their achievements and failures, and addresses the question of what motivated such extraordinary quests.
BIC:
1D Europe, 3H c 1000 CE to c 1500, HBJD European history, HBLC Early history: c 500 to c 1450/1500, HBTB Social & cultural history, HRCR Christian worship, rites & ceremonies