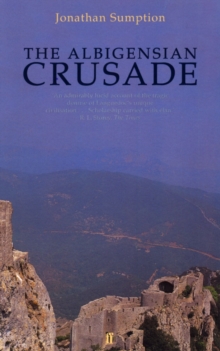 The Albigensian crusade
0571200028 / 9780571200023
general Learn More
postgraduate
research & professional
undergraduate
Reprint. Originally published: 1978.
Languedoc is among the most varied and beautiful parts of France, but eight centuries ago it was far from certain that it would become part of France at all.
The rich, semi-independent principality on the Mediterranean, ruled by the house of Toulouse, seemed far apart from the world of the feudal north.
It was here that a persuasive heresy of eastern origin challenged the orthodoxy of Catholicism.
For more than fifty years the Church retreated in the face of a rival whose teaching appeared to question the very foundations of Christian thought.
Finally, in 1208, the Church proclaimed a crusade against the "infidels".
This is an account of the ensuing war and the concomitant destruction of the Languedoc cultural tradition - a tradition that created the troubador, the basilica of Saint Sernin, and the castles of Cabaret and Carcassonne.
BIC:
3H c 1000 CE to c 1500, HBJD European history, HBLC Early history: c 500 to c 1450/1500