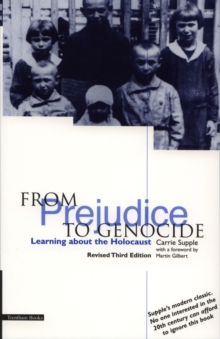 From prejudice to genocide : learning about the Holocaust (3rd rev. ed)
185856378X / 9781858563787
Stock expected by 23/04/2021
This key text for National Curriculum History has been fully revised and updated to take account of recent world events.
It traces the history of antisemitism and describes the experiences before and during the Holocaust of Jews, Gypsies and other groups deemed by the Nazis to be unworthy of life.
By following the experiences of four individuals who endured the Holocaust, Carrie Supple gives a face to the millions who perished.
The themes she explores - collaboration, indifference, obedience, dehumanisation, resistance and rescue - make the book a valuable resource for Citizenship, RE, PSE, Psychology and Humanities lessons.
BIC:
3JJH c 1939 to c 1945 (including WW2), JNU Teaching of a specific subject, YQH Educational: History