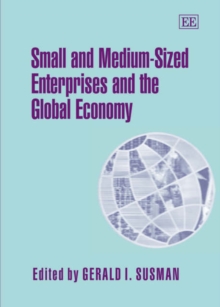 Small and medium-sized enterprises and the global economy
1845425952 / 9781845425951
Small and medium-sized enterprises (SMEs) often have difficulty competing in the global economy unless they collaborate with domestic or foreign partners or with public sector organizations.
This book addresses the resource leverage and innovation challenges that increased global trade represents for SMEs.
In doing so, it explores how they can become more competitive at home and in foreign markets as stand-alone firms or as members of supplier and customer networks.
SMEs are turning increasingly to innovation as a source of competitive advantage in order to protect their home markets and participate in expanding foreign markets.
The contributors to this volume - leading experts in entrepreneurship, innovation, and international business - provide in-depth coverage of the most compelling issues facing SMEs.
These include: innovation as a competitive strategy, network dynamics, ways to leverage technology, internationalization, and the role of the public sector in helping SMEs overcome resource deficiencies. This comprehensive look at SMEs in the global marketplace will be of great interest to academics who study entrepreneurship, innovation, or international business, officials from public sector agencies with responsibility for helping SMEs internationalize and become more innovative, and senior executives of SMEs or executives of larger companies who are considering collaboration with SMEs.
BIC: