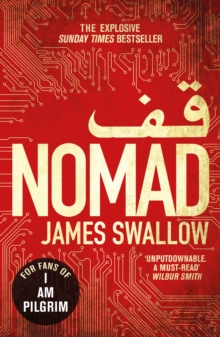 Nomad
1785760432 / 9781785760433
The Sunday Times bestselling debut novel from the master of the modern espionage thriller, James Swallow. ____________________Marc Dane was always the MI6 field agent stuck at home behind a computer screen, one step away from the action.
But when a brutal attack on his team leaves Marc as the only survivor - and with the shocking knowledge that there are traitors inside MI6 - he's forced into the front line. Worse still, every shred of evidence seems to point towards Marc as the perpetrator of the attack.
Accused of betraying his country, and with no one left to trust, he is forced to rely on the elusive Rubicon group and their operative Lucy Keyes.
Ex US Army, Lucy also knows what it's like to be an outsider, and she's got the field skills that Marc is sorely lacking. But Marc will soon realise he is just a pawn in a monstrous conspiracy.
A terrorist attack is coming, one bigger and more deadly than has ever been seen before. And with the eyes of the security establishment elsewhere, only Marc and Lucy can stop the attack before it's too late. A brilliant, white-knuckle thrill ride, NOMAD is the book that launched the global bestselling Marc Dane series - perfect for fans of I Am Pilgrim by Terry Hayes, Orphan X by Gregg Hurwitz, Mark Dawson's John Milton, and Vince Flynn's Mitch Rapp. ____________________10 REASONS TO READ JAMES SWALLOW:'Frighteningly credible' - BEN AARONOVITCH'Unputdownable' - WILBUR SMITH'Fast-moving' - DAILY MAIL'Enjoyable' - DAILY EXPRESS'Exciting' - THE SUN'Ultra fast-paced' - CHOICE 'Globe-trotting' - GUARDIAN 'Explosive' - IRISH EXAMINER'Distinctly Bondian' - MORNING STAR'Read it now' - SYDNEY MORNING HERALD
BIC: