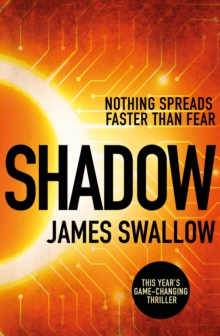 Shadow
1785765221 / 9781785765223
The race-against-time thriller about a deadly man-made virus, the far-right terrorist group planning to release it - and the one man who must stop them before millions are killed.
From the Sunday Times bestselling author of Nomad comes Shadow, the most talked about pandemic thriller of 2020 - for fans of Gregg Hurwitz's Into The Fire and The Eyes of Darkness by Dean Koontz. ___________________A ruthless far-right terrorist is broken out of captivity. A mysterious bio-scientist with a terrible secret is abductedA lethal virus threatens millions of lives across Europe and the Middle East. In a race against time that spans the globe, ex-MI6 officer Marc Dane and his partner Lucy Keyes are bound together in a desperate battle to stop the release of a deadly virus that will kill millions.
Operating outside the law and with only their survival instincts, their resolve and morals will be tested in a desperate fight against the sinister forces that lie behind this evil pandemic conspiracy. What price would you pay to stop a global catastrophe? Praise for the James Swallow's thrillers:'Unputdownable.
A must-read' Wilbur Smith 'Britain's answer to Jason Bourne' Daily Mail'An ultra fast paced, worldwide chase to stop a madman, while leaving the reader breathless' Choice 'Explosive' Irish Examiner'This is edge of the seat stuff that is terrifyingly real in places' Closer'A killer of a thriller' Weekend Sport
BIC: