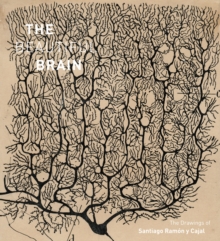 The beautiful brain : the drawings of Santiago Ramâon y Cajal
1419722271 / 9781419722271
29 cm 207 pages : illustrations (black and white, and colour)
Santiago Ramon y Cajal (1852-1934), the father of modern neuroscience and a Nobel laureate, was an exceptional artist.
He devoted his life to the anatomy of the brain, the body's most complex and mysterious organ.
His superhuman feats of visualisation, based on fanatically precise techniques and countless hours at the microscope, resulted in some of the most remarkable illustrations in the history of science.
Beautiful Brain presents a selection of his exquisite drawings of brain cells, brain regions and neural circuits with accessible descriptive commentary.
An art book at the crossroads of art and science, Beautiful Brain describes Cajal's contributions to neuroscience, explores his artistic roots and achievement and looks at his work in relation to contemporary neuroscience imaging techniques.
BIC:
ACV History of art & design styles: c 1800 to c 1900, AFF Drawing & drawings, AGB Individual artists, art monographs, PSAN Neurosciences