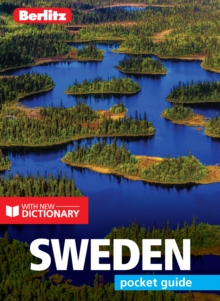 Sweden (Thirteenth edition)
178573217X / 9781785732171
160 pages : illustrations (colour), maps (colour).
Berlitz Pocket Guide Sweden The world-renowned pocket travel guide by Berlitz, now with a free bilingual dictionary. Compact, concise and packed full of essential information about where to go and what to do, this is an ideal on-the-move guide for exploring Sweden.
From top tourist attractions like Stockholm, Gothenburg and Malmoe, to cultural gems, including Sweden's ancient capital Uppsala and its enigmatic Viking remains, Marstrand, Sweden's favourite summer resort and the region of Norrland, home to the Sami people and punctuated by gleaming lakes, scented pine forests and high mountain peaks, plan your perfect trip with this practical, all-in-one travel guide.
Features of this travel guide to Sweden- Inspirational itineraries: discover the best destinations, sights and excursions, highlighted with stunning photography- Historical and cultural insights: delve into the country's rich history and culture, and learn all about its people, art and traditions- Practical full-colour map: with every major sight and listing highlighted, the full-colour maps make on-the-ground navigation easy- Key tips and essential information: from transport to tipping, we've got you covered- Dictionary: quick-reference bilingual language guide to help you with vocabulary - Covers: Stockholm; Stockholm's surroundings; The South; Gothenburg and the West; The Central Heartlands; Norrland; The ArcticGet the most out of your trip with Berlitz Phrasebook & Dictionary Swedish About Berlitz: Berlitz draws on years of travel and language expertise to bring you a wide range of travel and language products, including travel guides, maps, phrase books, language-learning courses, dictionaries and kids' language products.
BIC: