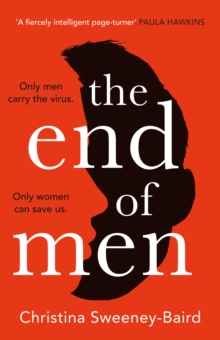 The end of men
0008407924 / 9780008407926
'A FIERCELY INTELLIGENT PAGE-TURNER' PAULA HAWKINS 'WRITTEN PRE-COVID - GRIPPING, SCARY AND PERSUASIVE' IAN RANKIN 'THE STUFF THAT CLASSICS ARE MADE OF' A.J.
FINN 'GRIPPING AND BEAUTIFULLY WRITTEN. WHAT A DEBUT!' SARAH PEARSE, author of The Sanatorium 'BRILLIANT, PRESCIENT, UNPUTDOWNABLE' JENNY COLGAN 'AN ENGROSSING DEBUT' STYLIST 'HUGE IN SCOPE...AS TENSE AS THE TAUTEST THRILLER' RED 'THE MOST BUZZED-ABOUT FICTION FOR 2021' SUNDAY TIMES STYLE 'AN UNFLINCHINGLY PACY MUST-READ' GRAZIA 'AN UNFORGETTABLE DEBUT'PRIMA________________________________________________________ GLASGOW, 2025. Dr Amanda Maclean is called to treat a young man with a mild fever.
Within three hours he dies. The mysterious illness sweeps through the hospital with deadly speed.
This is how it begins. The victims are all men. Dr Maclean raises the alarm, but the sickness spreads to every corner of the globe.
Threatening families. Governments. Countries. Can they find a cure before it's too late?
Will this be the story of the end of the world - or its salvation? Compelling, confronting and devastating, The End of Men is the novel that everyone is talking about. ________________________________________________________ 'A POWERFUL, GRIPPING BOOK THAT HAS MADE ME FEEL A LITTLE BIT BETTER ABOUT THE WORLD WE ARE LIVING IN RIGHT NOW' BRYONY GORDON 'FRIGHTENINGLY PRESCIENT...
A COMPELLING, MOVING AND INTELLIGENT PAGE-TURNER' GOOD HOUSEKEEPING 'A TOUR DE FORCE - A FEMINIST REIMAGINING OF SOCIETY' GILLIAN MCALLISTER 'COMPELLING AND HEART-BREAKING.
A REMARKABLE ACHIEVEMENT' ABI DARE 'PACY, EMOTIVE, THOUGHT-PROVOKING AND ULTIMATELY A REMINDER OF THE STRENGTH OF LOVE AND HUMAN CONNECTION' C.D.
MAJOR 'A REMARKABLY PRESCIENT, WHIP-SMART, AND STRANGELY HOPEFUL NOVEL' CHARLOTTE PHILBY 'DEVASTATING, PRESCIENT, COMPELLING AND CONFRONTING' LAURA JANE WILLIAMS 'GRIPPING, MOVING AND SCARILY PRESCIENT.
COULDN'T PUT IT DOWN' CHARLOTTE NORTHEDGE, AUTHOR OF THE HOUSE GUEST 'MOVING, THOUGHT-PROVOKING AND TERRIFYINGLY PRESCIENT' TAMMY COHEN 'TOPICAL, TIMELY, IMAGINATIVE AND ULTIMATELY HOPEFUL' KATIE KHAN, AUTHOR OF HOLD BACK THE STARS 'AN INCREDIBLE ACHIEVEMENT - BOTH A BREATH-TAKING FEAT OF IMAGINATION AND A WISE, STEADY EYE ON THE WORLD AS IT IS' JESSICA MOOR, AUTHOR OF THE KEEPER
BIC:
1DBKS Scotland, 3JM 21st century, FA Modern & contemporary fiction (post c 1945), FH Thriller / suspense