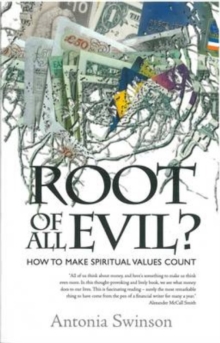 Root of All Evil? : How To Make Spiritual Values Count
0715208055 / 9780715208052
Usually dispatched within 2 weeks
138 x 216 mm, 17 grams 208 pages
General (US: Trade) Learn More
Professional & Vocational
Tertiary Education (US: College)
A practical guide to money's role in everyday Christian living `If all Christians bought this book and changed their priorities we would have revival in this land!' Keith Tondeur, Credit Action `A timely book with an important message.' The Tablet 'Absolutely marvellous ... the word is RELEVANT.' Kevin Cahill, author of Who Owns Britain What does money mean to you?
In whose interest is it for the population to be up to its eyeballs in debt?
How does your childhood shape your views on money - for life?
How does the financial world seduce us into accepting double standards?
In this timely, practical and entertaining book, Antonia Swinson shows us how we can make our spiritual values count.
She dares us to challenge the financial establishment and chart an escape route to financial salvation.
You will never look at money in the same way again. The author is an acclaimed writer, broadcaster and award-winning financial journalist, and has also had three novels published. The author asserts that whenever there is a gap between our own spiritual values and the way we feel we have to deal with money, other people get rich at our expense - and we are all impoverished, often losing far more than money.
The author challenges the financial establishment and charts an escape route back to financial salvation - and spiritual wealth.
BIC:
HRCX6 Christian social thought & activity, VX Mind, Body, Spirit