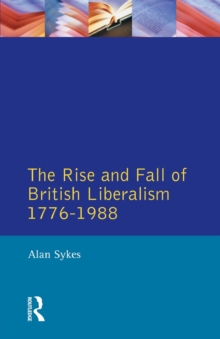 The rise and fall of British liberalism, 1776-1988
0582060575 / 9780582060579
Usually dispatched within 4 weeks
Here is the first book to cover the history of British Liberalism from its founding doctrines in the later eighteenth century to the final dissolution of the Liberal party into the Liberal Democrats in 1988.
The Party dominated British politics for much of the later nineteenth-century, most notably under Gladstone, whose premierships spanned 1868-1894, and during the early twentieth, but after the resignation of Lloyd George in 1922 the Liberal Party never held office again.
The decline of the Party remains a unique phenomenon in British politics and Alan Sykes illuminates its dramatic and peculiar circumstances in this comprehensive study.
BIC:
1DBK United Kingdom, Great Britain, 3JF c 1700 to c 1800, 3JH c 1800 to c 1900, 3JJ 20th century, JFCX History of ideas, JPFK Liberalism & centre democratic ideologies, JPL Political parties