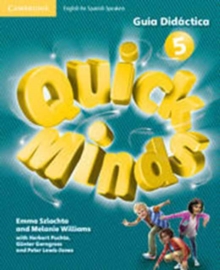 Quick Minds Level 5 Guia Didactica
8490364605 / 9788490364604
Usually dispatched within 4 weeks
225 x 276 mm 192 pages, illustrations
ELT / TEFL (Teaching of English as a foreign language) Learn More
Quick Minds is an exciting, six-level course for young learners in Spain that enhances your students' thinking skills, sharpening their memory while improving their language skills. The full-colour Guia Didactica comes with facsimile pages of the Pupil's Book and Activity Book.
An Aims box per lesson specifies objectives, new and recycled language, materials needed, the Basic Competences that the pupils will achieve, and home-school links.
Clear instructions are provided along with audioscripts and answers.
The Guia Didactica also offers a vast array of extra activities, with warm-up, ending the lesson and extension and reinforcement activities.
Unit tests help assess pupils' knowledge with a listening, speaking, pre-reading/reading and writing test.
The tests are presented in a familiar way with illustrations and simple activities.
Also available in English.
BIC: