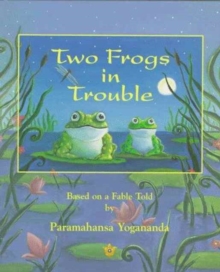 TWO FROGS IN TROUBLE : Based on a Fable told by Paramahansa Yogananda
0876123515 / 9780876123515
254 x 203 mm, 25000 grams
A charming illustrated children's book. Two frogs fall into a vat of milk and find themselves in a world of trouble.
At first, the larger frog would seem to have the advantage, but the smaller frog possesses hidden inner resources.
This tale of courage and determination-often recounted by Paramahansa Yogananda-is filled with delightful pictures that bring the story vividly to life, and shows children that nothing is impossible when they call upon their God-given inner strength.
BIC: