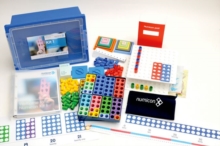 Numicon Kit 1 Class Kit
Part of the Numicon series
0198486936 / 9780198486930
Numicon Kit 1 builds on the Firm Foundations Kit and the Numicon Shapes continue to be extensively used throughout the teaching programme.
At this stage we also suggest the introduction of Number Rods.
Kit 1 includes a set of 1-10 Trays and 20 Tray for use with Number Rods in the activities, however, since so many schools already have these they are not included in the Kit as standard.
If you are purchasing a Kit for Home use or the school does not already have Number Rods then these can be ordered separately.
Ideas covered in Kit 1 include: signs of arithmetic notation + = , consolidation of + facts to 10, place value + to 100.
Suitable for pupils working at National Curriculum levels 1 and 2.
BIC:
4KHF For National Curriculum Key Stage 1, JNU Teaching of a specific subject, YQM Educational: Mathematics & numeracy