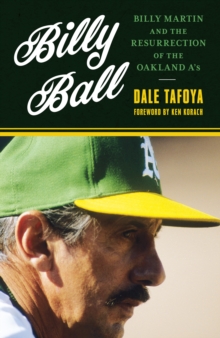 Billy Ball : Billy Martin and the resurrection of the Oakland A's
1493043625 / 9781493043620
Stock expected by 13/06/2020
23 cm 256 pages : illustrations (black and white)
There was no more polarizing manager in baseball than the hot-tempered, hard-drinking, risk-taking Billy Martin.
Under absentee and apathetic owner Charlie Finley, there was not a more neglected baseball franchise on the verge of death than the Oakland A's of the late 1970s.
Martin was the firebrand everyone wanted and Finley was the owner A's fans hated. But when Finley tapped the fifty-one-year-old Martin to manage his A's in February 1980, it sparked a major-league renaissance in the San Francisco-Bay Area.
Baseball's two most colorful personalities had joined forces.
So began the winning era of "Billy Ball," Martin's daring, unpredictable, base-stealing, aggressive style of play driven by young players like future superstar Rickey Henderson.
Time magazine would feature Martin on the cover of its May 1981 issue. Billy Ball translated into wins and propelled the A's to the top of the standings, eventually leading them to the American league West crown in 1981 before falling to the Yankees in the ALCS that season.
But Billy Ball had made its mark in baseball lore. During a time of economic uncertainty and dying baseball interest in Oakland, Billy Ball filled the stands, rejuvenated fans, and saved professional baseball in the city.
BIC: