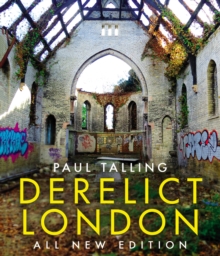 Derelict London (All new edition)
1847948383 / 9781847948380
18 cm 214 pages : illustrations (colour)
______________________________The huge word-of-mouth bestseller - completely updated for 2019THE LONDON THAT TOURISTS DON'T SEELook beyond Big Ben and past the skyscrapers of the Square Mile, and you will find another London.
This is the land of long-forgotten tube stations, burnt-out mansions and gently decaying factories.
Welcome to DERELICT LONDON: a realm whose secrets are all around us, visible to anyone who cares to look . . . Paul Talling - our best-loved investigator of London's underbelly - has spent over fifteen years uncovering the stories of this hidden world.
Now, he brings together 100 of his favourite abandoned places from across the capital: many of them more magnificent, more beautiful and more evocative than you can imagine. Covering everything from the overgrown stands of Leyton Stadium to the windswept alleys of the Aylesbury Estate, DERELICT LONDON reveals a side of the city you never knew existed.
It will change the way you see London. ______________________________PRAISE FOR THE DERELICT LONDON PROJECT'Fascinating images showing some of London's eeriest derelict sites show another side to the busy, built-up capital.' Daily Mail'Talling has managed to show another side to the capital, one of abandoned buildings that somehow retain a sense of beauty.' Metro'Excellent . . . As much as it is an inadvertent vision of how London might look after a catastrophe, DERELICT LONDON is valuable as a document of the one going on right in front of us.' New Statesman'From the iconic empty shell of Battersea Power Station to the buried 'ghost' stations of the London Underground, the city is peppered with decaying buildings.
Paul Talling knows these places better than anyone in the capital.' Daily Express'[London has an] unusual (and deplorable) number of abandoned buildings.
Paul Talling's surprise bestseller, DERELICT LONDON, is their shabby Pevsner.' Daily Telegraph______________________________
BIC:
1DBKESL London, Greater London, AMX History of architecture, WQP Places in old photographs