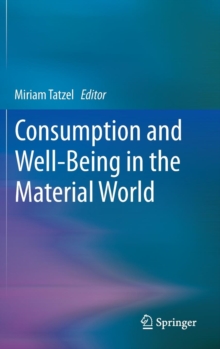 Consumption and well-being in the material world
9400773676 / 9789400773677
Stock expected by 12/04/2020
24 cm viii, 198 pages : illustrations (black and white)
This volume addresses how we can find happiness and well-being in the material world.
It builds on previous works that find that materialism is associated with lowered well-being (materialists are less happy) and that consumerism, in all its profusion, is harmful to environmental well-being.
How can we use the money and possessions in our lives in the service of well-being? Apparently not by being materialistic. Can we benefit from the many wonders of the marketplace -- in technology, convenience and aesthetics -- without falling prey to the lures and dangers of excessive material preoccupation?
Can we meet our material needs in ways that nourish growth and well-being?
The authors of the chapters in this volume are on-going researchers into such questions.
Herein you can learn about the hedonic benefits of thrift and of spending on experiences; how possessions can be beneficial; how different types of consumers spend money; cultural variations in conceptions of the "good life;" how we might reconcile environmental and consumer well-being; and how to measure the whole of human, economic, and environmental well-being.
Taken all together, this collection finds grounds for compatibility between what's good for the consumer and what's good for the environment. This volume appeals to academics, professionals, students and others interested in materialism and consumer well-being.
BIC:
JFFT Consumerism, JMAN Humanistic psychology, KJS Sales & marketing