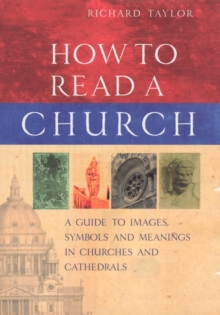 How to read a church : a guide to images, symbols and meanings in churches and cathedrals
1844130533 / 9781844130535
21 cm x, 246 p., [8] p. of plates : ill.
A unique, accessible guide to the common symbols and meanings in church art and architecture Churches and cathedrals play an essential part in our heritage.
As community-centred places of worship and as important tourist attractions, they are visited by millions of people every year.
But churches were originally built to be read, and so they are packed with images, symbols and meanings that often need explanation for visitors.
How to Read a Church is a lively and fascinating guide to what a visitor to a church is likely to find there and how to interpret the common images and meanings in church art and architecture.
It will explain how to identify people, scenes, details and their significance, and will explore the symbolism of different animals, plants, colours, numbers and letters - and what this all means.
It will be an essential guide for anyone who has ever visited / is visiting a church or cathedral, and for those who want to know more about these incredible buildings and the art they contain.
BIC:
1DBK United Kingdom, Great Britain, AGR Religious subjects depicted in art, AMN Religious buildings