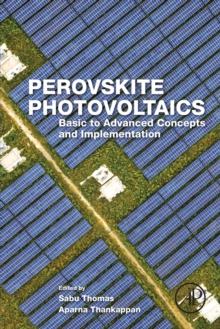 Perovskite photovoltaics : basic to advanced concepts and implementation
0128129158 / 9780128129159
Usually dispatched within 4 weeks
Perovskite Photovoltaics: Basic to Advanced Concepts and Implementation examines the emergence of perovskite photovoltaics, associated challenges and opportunities, and how to achieve broader development.
Consolidating developments in perovskite photovoltaics, including recent progress solar cells, this text also highlights advances and the research necessary for sustaining energy.
Addressing different photovoltaics fields with tailored content for what makes perovskite solar cells suitable, and including commercialization examples of large-scale perovskite solar technology.
The book also contains a detailed analysis of the implementation and economic viability of perovskite solar cells, highlighting what photovoltaic devices need to be generated by low cost, non-toxic, earth abundant materials using environmentally scalable processes. This book is a valuable resource engineers, scientists and researchers, and all those who wish to broaden their knowledge on flexible perovskite solar cells.
BIC: