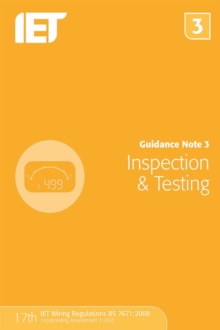 Inspection & testing (Seventh edition)
184919873X / 9781849198738
Usually dispatched within 2 weeks
30 cm 136 pages : illustrations (colour)
Previous edition: 2012 "IET Wiring Regulations, seventeenth edition, BS 7671:2008 requirements for electrical installations incorporating Amendment number 3:2015, referenced in the text as BS 7671:2008+A3:2015.".
Important changes to the EIC and EICR forms make Guidance Note 3: Inspection & Testing a priority for all those carrying out inspection and testing on electrical installations. Additional changes to this book from the updates to Amendment 3 include: Changes to earth fault loop impedances for all protective devicesEarth electrode testing Amendment 3 published on 5 January 2015 and comes into effect on 1 July 2015.
All new installations from this point must comply with Amendment 3 to BS 7671:2008.
BIC:
£30.00
The title has been replaced.To check if this specific edition is still available please contact Customer Care +44(0)1482 384660 or schools.services@brownsbfs.co.uk, otherwise please click 9781785614521 to take you to the new version.
Other Formats