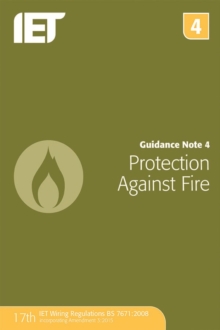 Protection against fire (Seventh edition)
1849198756 / 9781849198752
Usually dispatched within 2 weeks
30 cm 102 pages : illustrations (colour)
Previous edition: 2012 "IET Wiring Regulations, seventeenth edition, BS 7671:2008 requirements for electrical installations incorporating Amendment number 3:2015, referenced in the text as BS 7671:2008+A3:2015.".
Protection against fire is a key element of Amendment 3 to the 17th Edition.
Vital changes will potentially vastly improve the safety of contractors, consumers and the fire services.
Guidance Note 4: Protection Against Fire provides clear guidance on how to apply the updated aspects of BS 7671. Changes include information on: Wiring in escape routesConsumer units (to come into effect January 2016)Heating equipmentThese changes affect all those working on installations.
Ensure the safety of yourself and others by following the new guidance. Amendment 3 published on 5 January 2015 and comes into effect on 1 July 2015.
All new installations from this point must comply with Amendment 3 to BS 7671:2008.
BIC:
£29.00
The title has been replaced.To check if this specific edition is still available please contact Customer Care +44(0)1482 384660 or schools.services@brownsbfs.co.uk, otherwise please click 9781785614552 to take you to the new version.
Other Formats