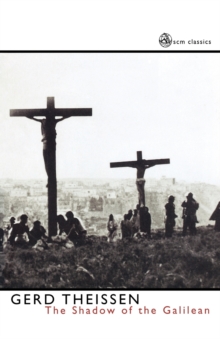 The shadow of the Galilean : the quest of the historical Jesus in narrative form ([New] ed)
0334028523 / 9780334028529
Previous ed. of this translation: 1987.
Combining New Testament study with the terseness of thriller writing, Gerd Theissen conveys the gospel story in the fresh and imaginative prose of a novel.
The story is told by Andreas, an imaginary contemporary of Jesus, who is trapped into becoming an informer for Pilate while trying to help a friend, who emerges as the Barabbas of the passion narratives.
In this role as double agent, Andreas meets and talks to a wide variety of Jesus' contemporaries, during which we learn a great deal about Palestinian life and politics, as well as what Jesus (the Galilean of the title) might have been like and how he might have behaved.This is a story for our times, or how the gospels might have turned out if they had been written by John Le Carre or Frederick Forsyth: racy, readable, and full of nerve-tingling incident.
BIC: