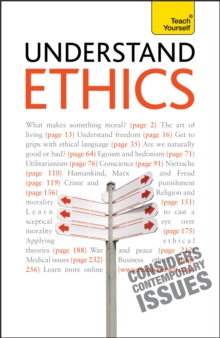 Understand ethics ([New] ed)
1444103512 / 9781444103519
Previous ed.: published as Ethics. 2006.
Is this the right book for me?An accessible introduction to ethicsWhether you're a student studying philosophy at any level, or simply want to gain a deeper understanding of this fascinating subject, Understand Ethics is an accessible introduction to all the key theories and thinkers.
Fully updated, this latest edition includes contemporary examples and discussion of current debates including terrorism, genetics and the media, helping you to grasp how ethics applies to life today.
Understand Ethics includes: Chapter 1: Introduction: the art of livingWhat makes something moral?What is the point of ethics?What price integrity?Rights and responsibilitiesThe art of livingChapter 2: Free to choose?What kind of freedom?DeterminismReductionismFreedom and the StateHow much freedom does morality need?Chapter 3: What do we mean?Three kinds of languageDefining key termsSome theories'Is' and 'ought'Chapter 4: Is it natural?Does it have a 'final cause'?Some features of 'natural law'How do you decide what is 'natural'?Applying 'natural law'Are we naturally good or bad?Evolution, change and the natural lawChapter 5: Looking for resultsEgoistic hedonismUtilitarianismForms of utilitarianismGeneral criticisms of utilitarianismChapter 6: The experience of moral choice ConscienceThe categorical imperativeThe creative responseDetermined and yet free?. . Chapter 7: Personal development and virtueAltruism?NietzscheVirtue ethicsExistentialismHumankind, Marx and FreudChapter 8: Law and orderSociety and moral choiceIn whose interest?Is equality possible?A social contractCrime and punishmentCapital punishmentIn self-defence?Civil disobedienceIf Nietzsche were a civil servant... Chapter 9: Religion and moral valuesHow are religion and morality related?The basis for religious ethicsReligious values and societyShould religious freedom be restricted?Chapter 10: Scepticism and relativismPhilosophers or politicians?Situation ethicsRelativism and moral absolutesChapter 11: Applied ethicsThe natural environmentAnimal rightsInternational issuesWar and peaceGender issuesSexual issuesSome issues in medical ethicsThe beginning and end of lifeBusiness ethicsMedia issuesLearn effortlessly with a new easy-to-read page design and interactive features: Not got much time?One, five and ten-minute introductions to key principles to get you started. Author insightsLots of instant help with common problems and quick tips for success, based on the author's many years of experience. Test yourselfTests in the book and online to keep track of your progress. Extend your knowledgeExtra online articles to give you a richer understanding of the subject. Five things to rememberQuick refreshers to help you remember the key facts. Try thisInnovative exercises illustrate what you've learnt and how to use it.
BIC: