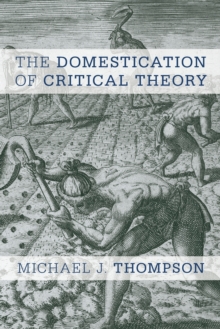 The domestication of critical theory
1783484314 / 9781783484317
Critical theory was one of the most vigorous and insightful intellectual traditions of the twentieth-century.
At its core was a critique of culture and consciousness tied to instrumental rationality and capitalist economic life.
Yet, Michael J. Thompson argues in this highly original book that this once critical tradition has been domesticated - it no longer offers a philosophically convincing nor politically viable form of social critique.
Thompson demonstrates that critical theory has surrendered its concerns with domination, alienation, and the pathologies of capitalist modernity and shifted its focus toward neo-Idealist themes.
This new critical theory has turned its back on the insights of the classical critical theorists.
Thompson traces how this shift occurred and how we can reclaim critique in an age of conformism, apathy, and depoliticization.
He goes on to defend the different aspects of critical theory that can be used to reformulate social critique, one that must be brought into a dialogue with contemporary political, social and moral philosophy that protects the lasting and crucial legacy of critical theory as an emancipatory political project.
BIC:
HPCF Western philosophy, from c 1900 -, HPS Social & political philosophy