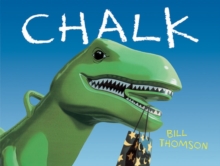 Chalk
0761455264 / 9780761455264
A rainy day. Three kids in a park. A dinosaur spring rider. A bag of chalk. The kids begin to draw...and then...magic! The children draw the sun, butterflies, and a dinosaur that amazingly come to life.
Children will never feel the same about the playground after they experience this astounding wordless picture book and the power of the imagination.
Bill Thomson embraced traditional painting techniques and meticulously painted each illustration by hand, using acrylic paint and coloured pencils.
BIC: