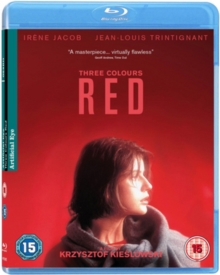 (15) Suitable for 15 years and over.
The third part of Krzysztof Kieslowski's trilogy based on the ideals embodied in the French national flag.
When fashion model Valentine (Irene Jacob) accidentally runs over a dog, she takes him to a vet, gets him patched up, then tries to return him to his owner.
It turns out that the owner is Joseph Kern (Jean-Louis Trintignant), a retired judge who lives alone and listens in on his neighbours' telephone conversations.
Valentine and Joseph slowly become friends; meanwhile, one of Joseph's neighbours cheats on her boyfriend, a young law student who will have an important effect on Valentine's life.