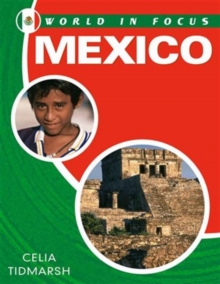 Mexico (Rev. and updated ed)
0750246928 / 9780750246927
Usually dispatched within 2 weeks
26 cm 64 p. : col. ill., col. maps
Primary & Secondary Education (US: Elementary & High School) Learn More
Previous ed.: London: Hodder Wayland, 2006.
Mexico has a dramatic history, including the ancient Aztec and Mayan civilizations, colonization by Spain, and its long struggle to become an independent, democratic nation.
It is a country of vast mountain ranges, arid deserts and lush rainforests.
However, Mexico faces many hazards, including earthquakes, volcanic eruptions, pollution and water scarcity.
It is also one of the world's most unequal societies, with around 20 per cent of the population owning 55 per cent of the country's wealth.
Poverty leads many Mexicans to cross the border into the wealthier United States, sometimes illegally, in search of a better standard of living.
The Mexican government is trying to improve employment opportunities but much still needs to be done before all the people of Mexico can look forward to a better future.
BIC:
* Variable discounts between 0% and 15% are applied to items where BBfS cannot determine exact discounts from suppliers.