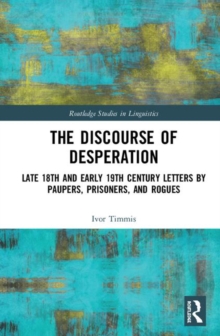 The discourse of desperation : late 18th and early 19th century letters by paupers, prisoners, and rogues
0367000261 / 9780367000264
Postgraduate, Research & Scholarly Learn More
Undergraduate
This book discusses how the poor and desperate in the late eighteenth and early nineteenth centuries mobilised their linguistic resources in pursuit of vital pragmatic goals, drawing on three corpora of letters written by the poor.
The main question addressed by the book is, 'How were the poor, often armed only with low levels of education and literacy, able to meet the challenge of writing letters vital to their interests, even to their survival?' Timmis argues that the answer lies in the highly strategic approach adopted by the writers, particularly evident in the way formulaic language is used in the pauper and prisoner letters.
Formulaic language supports the writers in producing intelligible letters in what they consider an appropriate tone but also allows them to exploit popular cultural motifs of the time.
Data is drawn from three sources: pauper letters by the poor applying for parish relief, from around 1795 to 1834; prisoner letters by women awaiting deportation to Australia for defrauding the Bank of England in the early nineteenth century; and anonymous letters by the poor demanding money with menaces.
Comparison with the Mayhew Corpus of interviews with the London poor in the 1850s reinforces the idea that part of the writers' approach was to orient away from the vernacular towards a style they perceived to be more elevated. Showing how resourceful people can be in communicating their needs in crises and in turn surfacing new insights into literacy and demotic language awareness, this book will be of interest to students and scholars in corpus linguistics and social history.
BIC:
CBX Language: history & general works, CFB Sociolinguistics, CFF Historical & comparative linguistics, CFGA Semantics & pragmatics, EBAL Applied linguistics for ELT