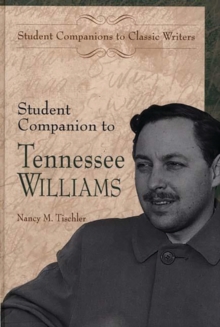 Student Companion to Tennessee Williams
0313312389 / 9780313312380
Usually dispatched within 4 weeks
Professional & Vocational Learn More
Postgraduate, Research & Scholarly
Undergraduate
From his earliest success in 1945 with the poignant The Glass Menagerie, until his final curtain call with the 1979 production of The Two-Character Play, Tennessee Williams never stopped experimenting with theatrical techniques and striving to explain his richly provocative ideas.
This new critical study of Williams traces the shape of the playwright's life and career, both full of wanderings, failures, love, anguish, and unparalleled triumphs.
Incorporating much of the new information that is emerging in the recent publication of letters, biographies, and previously unpublished plays, this Student Companion distills a vast body of scholarship to give a fresh and accessible presentation of the key elements of Williams' complicated works.
In-depth analysis of 7 of Williams' plays explore the literary styles, themes, and influences Williams drew from poetry, movies, mythology, religion, and personal experiences.
This book allows the general reader and theatre enthusiast a glimpse at the shape of his life, his mind, and his work.
Readers will come to appreciate why plays such as A Streetcar Named Desire (1947) and Cat on a Hot Tin Roof (1955) have come to be considered American classics. Following the successful series format, this volume introduces readers to Tennessee Williams with a richly detailed biography, followed by a Literary Heritage chapter.
A full chapter is devoted to examining each of his major plays.
In addition to analysis of character, plot, themes, and style, each play is also given an alternate reading from formal, feminist, psychological, gay, or theological criticism.
The concluding bibliography cites all of Williams' dramatic output, as well as his poetry and prose.
It also gives many sources for biographical information, criticism of individual works, and original reviews from the first staging of his plays.
Students and their teachers should find this volume interesting and easy to follow.
BIC:
1KBB USA, 2ABM American English, BG Biography: general, DSBH Literary studies: from c 1900 -, DSG Literary studies: plays & playwrights