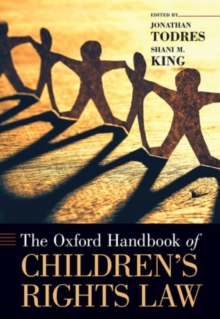 The Oxford Handbook of Children's Rights Law
0190097604 / 9780190097608
Children's rights law is a relatively young but rapidly developing discipline.
The U.N. Convention on the Rights of the Child, the field's core legal instrument, is the most widely ratified human rights treaty in history.
Yet, like children themselves, children's rights are often relegated to the margins in mainstream legal, political, and other discourses, despite their application to approximately one-third of the world's population and every human being's firststages of life.
Now thirty years old, the Convention on the Rights of the Child (CRC) signalled a definitive shift in the way that children are viewed and understood-from passive objects subsumed within the family to full human beings with a distinct set of rights.
Although the CRC and otherchildren's rights law have spurred positive changes in law, policies, and attitudes toward children in numerous countries, implementation remains a work in progress.
We have reached a state in the evolution of children's rights in which we need more critical evaluation and assessment of the CRC and the large body of children's rights law and policy that this treaty has inspired.
We have moved from conceptualizing and adopting legislation to focusing on implementation and making the content ofchildren's rights meaningful in the lives of all children.
This book provides a critical evaluation and assessment of children's rights law, including the CRC.
With contributions from leading scholars and practitioners from around the world, it aims to elucidate the content of children's rights law,explore the complexities of implementation, and identify critical challenges and opportunities for children's rights law.
BIC:
LBBR International human rights law, LNMK Family law: children