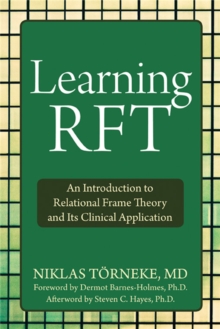 Learning RFT : An Introduction to Relational Frame Theory and Its Clinical Applications
1572249064 / 9781572249066
152 x 228 mm, 380 grams 267 pages
In this book Niklas Toerneke presents the building blocks of RFT: language as a particular kind of relating, derived stimulus relations, and transformation of stimulus functions.
He then shows how these concepts are essential to understanding acceptance and commitment therapy and other therapeutic models.
Learning RFT shows how to use experiential exercises and metaphors in psychological treatment and explains how they can help your clients.
This book belongs on the bookshelves of psychologists, psychotherapists, students, and others seeking to deepen their understanding of psychological treatment from a behavioral perspective.
BIC: