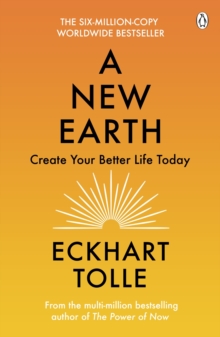 A new earth : create a better life
0141039418 / 9780141039411
Reprint. Originally published: New York: Dutton; London: Michael Joseph, 2005.
'LIFE-CHANGING' CAROLINE HINNESLearn to harness the strength of mindfulness and positivity to change your life with Eckhart TolleTHE BOOK THAT INSPIRED THE CHART-TOPPING PODCAST OPRAH & ECKHART TOLLE: A NEW EARTH____________Are you ready to change your life?In Eckhart Tolle's ground-breaking book, he gives you the spiritual framework to:- Understand yourself better- Manage, manifest and achieve your goals- Reach your full potential- Channel conflict into something positive- Change negative habits- Live in the momentOpen your mind and follow Tolle's guidance to happiness and health in the modern world. ____________'A wake up call for the entire planet.
A New Earth helps us to stop creating our own suffering and obsessing over the past and what the future might be and to put ourselves in the now' Oprah Winfrey'My No. 1 guru will always be Eckhart Tolle' Chris Evans, Sunday Times'I'm gonna have to listen to [this podcast] several times!
Too good!' Fearne Cotton on the 'Oprah and Eckhart Tolle: A New Earth' podcast'This book changed my life.
It's a brilliant and very practical spiritual guide that teaches the way to inner peace: how to live in the moment and get beyond the ego' Santa Montefiore, bestselling author of The Secret Hours
BIC:
VSP Popular psychology, VXA Mind, Body, Spirit: thought & practice