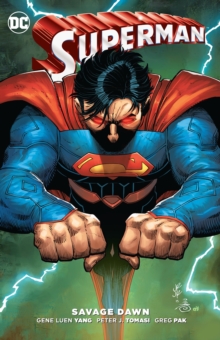 Savage dawn
Part of the Superman series
1401271251 / 9781401271251
352 pages : chiefly illustrations (colour).
IT'S DARKEST AT THE DAWN! Vandal Savage can affordto be patient-he's immortal, thanks to fragments from a comet hecame into contact with more than 40,000 years ago...a comet that he has sincespent aeons and spilled blood trying to bring back to Earth.
A comet that,should he reclaim it, will grant him untold might.
Savage's patience isabout to pay off. Through his operatives, he's taken Superman'spowers-and, indirectly, his secret identity-to siphon the collectivestrength of the Justice League and generate the ultimate tractor beam.
As thebeam draws Savage's long-lost comet all the way back to Earth,unsuspecting souls bearing the immortal's genetic signature are suddenlyinfused with maddening might, while their "father's"already-incredible power exponentially increases.
Only a handful of heroes, ledby Wonder Woman and a depowered Superman, stand between Savage and his comet,and soon even they won't be enough-that is, unless Superman tapsinto a deadly element from his past to deny his immortal adversary a future ofeternal power.
Acclaimed writers Gene Luen Yang (BOXERS & SAINTS), Greg Pak(BATMAN/SUPERMAN), Aaron N.
Kuder (SUPERBOY) and Peter J. Tomasi (BATMAN &ROBIN), joined by a who's who of artists including Howard Porter (JUSTICELEAGUE #3001), Ardian Syaf (BATMAN/SUPERMAN) and Doug Mahnke (GREEN LANTERN),bring one of DC's mightiest-and oldest-villains to theforefront and signal the final days of Krypton's last son.
CollectsSUPERMAN ANNUAL #3, ACTION COMICS #48-50, SUPERMAN/WONDER WOMAN #25-27 andSUPERMAN #48-50.
This book includes two never-before-published stories followingWonder Woman after the conclusion of the events of SAVAGE DAWN.
BIC: