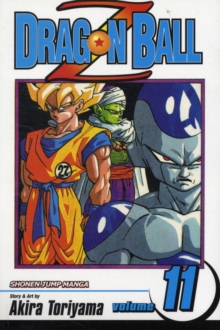 Dragon Ball ZVol. 11
1569318077 / 9781569318072
Stock expected by 04/12/2021
19 cm 186 p. : chiefly ill.
general Learn More
schools
academic/professional/technical
Reprint. This translation originally published: 2003. Printed in reverse sequence.
With an entire planet for their battleground, Goku and Freeza continue their showdown to see who's strongest in the universe!
But Goku's determination turns to horror as he realizes that his enemy has just been toying with him...and at just 50% of his full power, Freeza is more than strong enough to beat Goku!
Gohan, Piccolo and Kuririn distract Freeza while Goku powers up for a gigantic genki-dama - the last-ditch "energy sphere" technique.
Soon, the heroes have no choice but to hope for a miracle...
BIC: