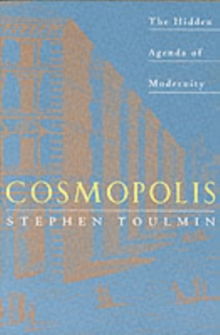 Cosmopolis : The Hidden Agenda of Modernity
0226808386 / 9780226808383
168 x 227 mm, 368 grams 235 pages
Professional & Vocational Learn More
Postgraduate, Research & Scholarly
Undergraduate
In the 17th century, a vision arose which was to captivate the Western imagination for the next 300 years: the vision of Cosmopolis, a society as rationally ordered as the Newtonian view of nature.
While fueling extraordinary advances in all fields of human endeavour, this vision perpetuated a hidden yet persistent agenda: the delusion that human nature and society could be fitted into precise and manageable rational categories.
Stephen Toulmin confronts that agenda - its illusions and its consequences for our present and future world.
BIC:
3JD c 1600 to c 1700, 3JF c 1700 to c 1800, 3JJ 20th century, HBG General & world history, HBLH Early modern history: c 1450/1500 to c 1700, HBLL Modern history to 20th century: c 1700 to c 1900, HBLW 20th century history: c 1900 to c 2000, HPC History of Western philosophy, JHM Anthropology