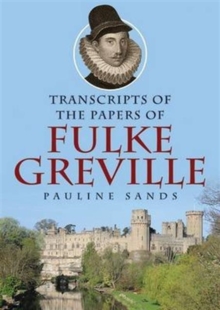 Transcripts of the Papers of Fulke Greville
1858585449 / 9781858585444
Usually dispatched within 2 weeks
Fulke Greville was born at Beauchamp Court, Alcester in 1554.
Educated at Shrewsbury School and Jesus College, Cambridge he went on to serve both Queen Elizabeth I and King James I.
Indeed he was knighted by Elizabeth in 1597 and later bestowed with the title of Lord Brooke by James.
His parliamentary posts included Secretary to the Principality of Wales, Treasurer of the Navy and Chancellor of the Exchequer.
James also granted him Knowle Park and Warwick Castle upon the latter of which he spent a considerable sum in restoration work and much of the benefit is still being enjoyed to this day.
Fulke Greville was murdered by one of his servants who then killed himself and his tomb can be seen at St.
Mary's Church, Warwick.
BIC:
1DBKEMW Warwickshire, West Midlands, 3JB c 1500 to c 1600, WQH Local history