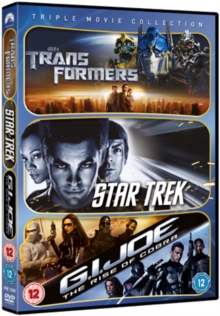 Transformers/Star Trek/G.I. Joe: The Rise of Cobra
(12) Suitable for 12 years and over.
Triple bill of big-budget, live-action, sci-fi blockbusters. 'Transformers' (2007) brings the children's cartoon sci-fi series from the 1980s bang up-to-date with all the essential, state-of-the-art effects you could possibly want.
Long ago, on the planet of Cybertron, an alien race divided into two camps - the Autobots, and the evil Decepticons.
In an effort to prevent the Decepticons from gaining possession of the 'Allspark', a cube with the capacity to grant infinite power, the Autobots managed to smuggle the object to Earth, where they secretly hid it.
Now, hundreds of years later, with the Decepticons searching for the cube, it's a race against time, as the Autobots enlist the help of young earthling Sam Witwicky (Shia LaBeouf) to foil the Decepticons' plans for world domination. 'Star Trek' (2009) is the Oscar-winning spin-off of the classic 1960s sci-fi adventure series.
The film chronicles the early years in the life of James T.
Kirk (Chris Pine) and his fellow USS Enterprise crew members, including Kirk's enrolment at Starfleet Academy, his first meeting with Spock (Zachary Quinto) and their battles with time-travelling Romulans from the future.
Eric Bana, Winona Ryder and Simon Pegg co-star, along with Leonard Nimoy, who reprises his role as the older Spock. 'G.I. Joe: The Rise of Cobra' (2009) is an action thriller directed by Stephen Sommers and set ten years in the future.
The story revolves around the exploits of a specialised military unit know as G.I.
Joe (Global Integrated Joint Operating Entity). When unsavoury arms dealer Destro (Christopher Eccleston), who heads evil organisation Cobra, becomes too powerful, G.I.
Joe must try to dispense of him and his organisation using its latest high-tech weapons and gadgetry.
The film also stars Channing Tatum, Sienna Miller, Dennis Quaid, Marlon Wayans and Joseph Gordon-Leavitt, with Jonathan Pryce making an appearance as the President of the United States.