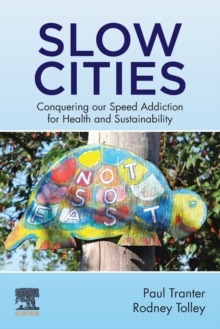 Slow Cities : Conquering our Speed Addiction for Health and Sustainability
0128153164 / 9780128153161
Stock expected by 12/06/2020
Slow Cities: Conquering Our Speed Addiction for Health and Sustainability demonstrates, counterintuitively, that reducing the speed of travel within cities saves time for residents and creates more sustainable, liveable, prosperous and healthy environments. This book examines the ways individuals and societies became dependent on transport modes that required investment in speed.
Using research from multiple disciplinary perspectives, the book demonstrates ways in which human, economic and environmental health are improved with a slowing of city transport.
It identifies effective methods, strategies and policies for decreasing the speed of motorised traffic and encouraging a modal shift to walking, cycling and public transport.
This book also offers a holistic assessment of the impact of speed on daily behaviours and life choices, and shows how a move to slow down will-perhaps surprisingly-increase accessibility to the city services and activities that support healthy, sustainable lives and cities.
BIC: