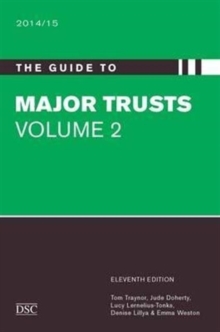 The Guide to Major Trusts 2014/15 - Vol 2 (11 Rev ed)
1906294860 / 9781906294861
Grant-making trusts are a key source of funding for charitable activity, which no fundraiser can afford to ignore.
The Guide to the Major Trusts series has built a reputation as the definitive source of information in this area.
This second volume examines a further 1,100 mainly smaller trusts, which between them give around GBP212 million.
The content is compiled both through contact with the trusts themselves and through independent research. Each entry includes: clear description of the trust's grant-making policies and practices a yearly grant total contact details areas or subjects the trusts will not consider. Who is this book for? Fundraisers in voluntary and community organisations whose work has a national focus, and practitioners interested in the funding landscape. Selling Points The only source of independent critical analysis of what trusts do in practice. Complements Volume 1 to provide comprehensive coverage of the further 1,100 mainly smaller trusts. Full regional and subject indexes. The authors have researched grant-making trusts for a range of other DSC trusts guides - including The Directory of Grant-Making Trusts and The Guide to Grants for Individuals in Need. As part of a well-established series, this guide receives widespread coverage in the voluntary sector media.
Coverage is anticipated in Charity Times, Professional Fundraising, UK Fundraising website and Third Sector. This title has a companion volume 1 - ISBN 978 1 906294 85 4
BIC:
GBCT Directories, JKSN1 Charities, voluntary services & philanthropy
Title Unavailable: Out of Print