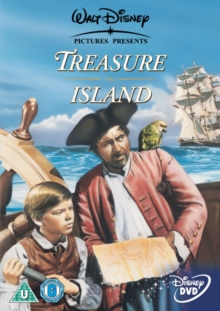 (U) Universal, suitable for all.
Young Jim Hawkins (Bobby Driscoll) finds himself set for adventure on the high seas when he is entrusted with a treasure map by ailing pirate Billy Bones.The map shows the location of treasure buried by Bones' former captain, Flint.
Other members of Flint's crew are also after the booty, so Jim is accompanied by Squire Trelawney and Doctor Livesy as they make their way by sea to the island where the treasure is hidden.
However, some of Flint's crew, led by the one-legged John Silver (Robert Newton), have managed to inveigle their way aboard Jim's ship as crew members, and will stop at nothing to get their hands on the treasure.