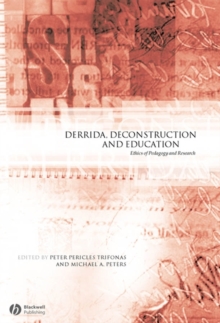 Derrida, deconstruction and education : ethics of pedagogy and research
1405119535 / 9781405119535
Stock expected by 30/01/2020
postgraduate Learn More
research & professional
undergraduate
Derrida has not received the attention he deserves in the field of education, yet his critique of Western metaphysics indicates that deconstruction is nothing other than a new pedagogy of the text.
This book takes as a premise that Derrida is a profound educational thinker, who from the very beginning concerned himself with questions of pedagogy.
Written by a team of international scholars, it comprises a series of original essays, exploring the significance of Derrida's thought for education, pedagogy, and the ethics of teaching and research.
Each scholar addresses in a provocative and inventive way, the unconventional readings that deconstruction engenders regarding some of the most basic philosophical questions of teaching and of learning.
BIC: