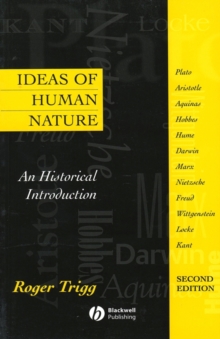 Ideas of Human Nature : An Historical Introduction (2nd Edition)
0631214062 / 9780631214069
Stock expected by 02/05/2021
140 x 224 mm, 294 grams 226 pages
Professional & Vocational Learn More
Postgraduate, Research & Scholarly
Undergraduate
"Ideas of Human Nature" presents twelve of the most influential western thinkers on the topic of human nature.
This updated second edition includes new chapters on Locke and Kant and a new conclusion on postmodernism.
The thinkers are all examined in their historical context and their relevance to contemporary controversies is discussed.
The issues covered include perennial philosophical problems such as the connection between mind and body; life after death; the role of reason; free will and determinism; the relationship between the individual and society; and the problem of relativism.
This is a key text for anyone interested in the theories that have affected the course of human history and continue to interest and challenge us today.
BIC:
HPC History of Western philosophy, HPJ Philosophy: metaphysics & ontology, HPM Philosophy of mind